puerto galera sucks!!!
Made you look, hahaha.
Just spent some 28 glorious hours in White Beach, Purto Galera with Buddy, Raims and Myrene. It was a spur of the moment decision - stealing time amidst work and deadlines. I know the holy week vacation was like 2 days away but we didn't want to be there with the whole of Metro Manila although a friend assured us it doesn't get that congested in Galera. That distinction is reserved for Boracay. Besides, there were some tasks waiting, foremost of which is the itchyworms' album that Buddy and Raims are co-producing.
It was such a perfect day. We all had a great time just hanging out, tripping on the sand and water, getting tipsy on Mindoro sling and enjoying the shopping. You won't belive how many pairs of board shorts Maps bought. ("Pang-pasalubong naman yung kalahati.")
I probably will wtite more about this getaway in a later blog entry. Meantime, enjoy the following pics.
This was taken around 5:30 pm last Monday.
Sherman
was right, White Beach is very photogenic.
red, orange, brown
And here's the requisite feet in the sand close-up :)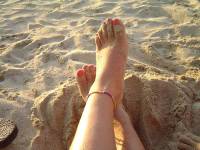 sandy feet