the rich are different from you and me
or in this case, people who shop and dine in makati are different from you and me.
Last night i was with friends at Absinthe in Greenbelt 3. Pedicab played. Afterwards, some of us went to the Coffee Bean and Tea Leaf downstairs. Couldn't resist to take a pic of their latest in-store promo. Hurry, offer only lasts until the 31st of March.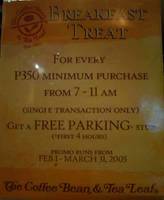 now that's A premium item
but hey, it's still a bargain right? considering the parking fee would cost you around P40 for the first 4 hours. So that's still a "savings" of more than 10% of what you paid for.
This marketing people talaga. They're so target market-specific. I wonder what they will think of next.